Joe Brooks's blog
Too Big too Succeed?
"When you buy from a mom or pop business, you are not helping a CEO buy a third vacation home." Nor are you helping the approximate 58 million Americans who work for "large corporations". By shopping exclusively with "mom and pop", you are playing a role in the liberal guilt-trip on the American consumer that demonizes the successful at the expense of everybody else. Sure, the CEO may be a sleaze, but the guy in the mailroom needs his paycheck and benefits package, too.
Yes, Mom and Pop start-ups create more jobs, but they also lose them just as quickly. The longevity of a business, which is almost always marked by growth (ie small business moving towards "bigness") is a better indicator of job security, better pay and benefits. Will you turn your back on Mom and Pop when they get too big? What is the cut-off between your support of Mom and Pop and your vilification of "Big Business"? Instead of "too big to fail" are you promoting a "too big to succeed" policy for the American economy? read more »
Filed under :
Filed under:
Excerpt from The Four Pillars of the Kingdom
Excerpts from The Four Pillars of the Kingdom by Joe Brooks (aka Immaccon)
DMV Christians
And the Lord said to Hosea, Go, take upon thee a wife of whoredoms and children of whoredoms: for the land hath committed great whoredom, departing from the Lord – Hosea 1:2
It is a sad irony that the United States, a nation that has the greatest percentage of self-professing Christians of any nation in the world, may also be one of the most morally hollow nations, as well. According to a Pew Poll on Religion and Public Life, over 75% of Americans call themselves a Christian of some denomination. Yet, only 56% say their religion is an important aspect of their lives. Let that in consistency sink in for a mo me nt. large portions of people who call themselves Christians do not consider their faith to be an important aspect of their lives. read more »
Filed under :
Filed under:
The Slippery Slope to Infanticide
One's first instinct, after the initial shock and sheer, visceral disgust, is to disregard the argument put forth by Alberto Giubilini and Francesca Minerva in their paper, "After-birth Abortion: Why Should the Baby Live?" But, I think that would be a mistake. This is not some random rant on an anonymous website from the outer reaches of the blogosphere. This is a scholarly paper published in the Journal of Medical Ethics; a respected, peer-reviewed academic journal that covers the field of medical ethics. No, it should not be ignored. If anything, I think this piece is something of a trial balloon, perhaps even a moral anesthetic of sorts, shocking us initially, but getting the idea out there in an attempt to numb us into slowly accepting the premise that a newborn baby is not a person.
So, what exactly are Giubilini and Minerva proposing? Here is the abstract from their paper:
Abortion is largely accepted even for reasons that do not have anything to do with the fetus' health. By showing that (1) both fetuses and newborns do not have the same moral status as actual persons, (2) the fact that both are potential persons is morally irrelevant and (3) adoption is not always in the best interest of actual people, the authors argue that what we call 'after-birth abortion' (killing a newborn) should be permissible in all the cases where abortion is, including cases where the newborn is not disabled.
First of all, if you are offended by harsh words, you may not want to read any further. This piece will be filled with the kinds of words that I would take my kids out behind the wood shed for using. But, the use of these words is necessary to illustrate the problem at hand. First, the set up: Sandra Fluke is a thirty year old (not twenty-three, as reported) liberal activist. She graduated from Cornell University in 2003 with a degree in feminist, gender and sexuality studies. Fluke then enrolled in Georgetown Law School with the express goal of overturning the school's health insurance policy exemption on birth control. Fluke is the co-president of the Georgetown chapter of Law Students for Reproductive Justice. And, it is thanks to this, that she was called to testify before the House Democratic Steering and Policy Committee hearing on women's health and contraception.
The end game here, of course, is the Obama Administration's attempt to force religious institutions like Georgetown, a Catholic school, to cover the health care costs of things they find morally repugnant, like birth control. Under ObamaCare, things like one's religious conscience take a back seat to unhindered access to condoms and birth control pills. The definitive protection of religious freedom provided by the first amendment is being over shadowed by the ever-expanding "emanating penumbras" of sexual freedom. read more »
Filed under :
Filed under:
The Bush-Perry Conundrum
Barring any major revelations or an implosion of the Perry campaign, the Texas governor has the easiest path to the Republican nomination right now. The majority of the candidates are on life support already, if indeed they were ever breathing on their own in the first place. So, realistically it comes down to Perry, Massachusetts governor Mitt Romney and Congresswomen and Tea Party darling, Michele Bachmann. And, again barring any surprises, even with only a few days of being a candidate under his belt, Perry is the de facto frontrunner. So, he'd better get ready for attacks from all sides and especially the most obvious one: the Dubya Connection.
Can I Trust You With My Heart...and my 401K?
Just when my heart was about to heal and I was ready to move on with my life, a sadder, wiser man, a suitor comes a' calling. I want to, I really, really want to believe you're the man for me, Rick Perry. But I've just been hurt so many times before. Sure, you say all the things that I like to hear:
To paraphrase Abraham Lincoln and Ronald Reagan, I realized that the United States of America really is the last great hope of mankind. What I saw was systems of government that elevated rulers at the expense of the people. Socialist systems cloaked maybe in good intentions but were delivering misery and stagnation. And I learned that not everyone values life like we do in America, or the rights that are endowed to every human being by a loving God.
Oh my! Lincoln, Reagan, God, capitalism and country all rolled up into one. There's no denying that you have a way with words. But, words are just words and may ex said a lot of the same words before he starting spouting dribble about "compassionate conservatism" and running up the national debt like the bill would never come due. Those kinds of wounds heal oh so slowly!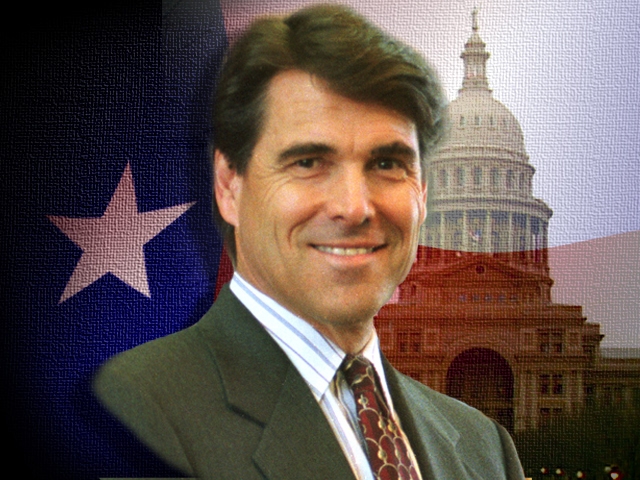 Handicapping the 2012 GOP Field as of this Moment
In the most exciting and momentous period in the 2012 election cycle, the declared Republican candidates will come together to engage in another spirited debate on Thursday, August 10th and then will breathlessly await the outcome of Saturday's straw poll to see who is REALLY the frontrunner in this talent-rich field of potential challengers to President Baracpdfkoadlfk…sorry, I collapsed under the weight of my own BS. Yes, the candidates will debate again and then, two days later, there will be the Iowa Straw Poll which is said to count for something. But, truth be told, it's meaningless. Even more meaningless than usual, I should say. The fact is, the 2012 Republican primary season will not really start until the two elephants in the room step up to the microphone and make it official. Until either Texas governor Rick Perry or former Alaskan governor Sarah Palin step into the ring, the current crop of declared candidates are just placeholders. The whole process is simply in a holding pattern, waiting.
I say this not to disparage any of the declared candidates. There is, generally speaking, nothing wrong with any of them. As a matter of fact, I am in 95-97% ideological agreement with even the least palatable of them, and ANY of them would make a better president than Barack Obama. But, they all represent the right message being carried by the wrong vessel. The exception to this being the current frontrunner/co-frontrunner Mitt Romney. The former Massachusetts governor is a photogenic and articulate vessel but with the wrong message or, at least, the right message but too little too late. This a conservative year, a Tea Party year, and Romney is a Bush 41 candidate, the revenue man at the moonshine party! He has been weighed down by the albatross of RomneyCare from day one and his unwillingness to repudiate what eventually became the template for ObamaCare won't carry him past the Super Tuesday states if a popular, conservative alternative emerges. If that happens, he will be competitive in Iowa and maybe even win New Hampshire, but his 2008 total of 11 primary wins will probably be 5 or less this time. The only state south of the Mason-Dixon Line that Romney won in 2008 was the purplish Florida and even a repeat performance of that is probably overly optimistic. Again, IF a viable conservative alternative emerges, Romney will probably drop out about the same time he did in 2008, which was early February, unless his ego and personal fortune keeps him in until March.
On the other hand, if that challenge doesn't emerge, Romney may benefit from the GOP's "next-in-line" syndrome that gave us McCain, Dole, Bush 41, etc as well as the idea that he may have the best chance of shoring up swing voters in the general election. He's 2012's safe candidate.
As far as the other declared candidates go:
Michele Bachman: right message at the right time but the media has already succeeded in "Palin-izing" her. The "crazy-eyed" Newsweek cover, her "gay curing" husband, and the fact that she is the next GOP woman after Palin, won't be going away and would only ramp up if she were the candidate. Sure, conservatives love her, but general election swing voters won't and no matter how much the Tea Party may still love Palin, it can't be denied that the Left's caricature of her has become her de facto public image. The same will happen to Michele Bachman. She will probably stay in the race, putting her eggs in the Super Tuesday basket, but probably won't make it out of March.
Tim Pawlenty: I find it REALLY hard to believe that this man was once considered the frontrunner! Again, he has the right message but its being delivered by a man who has all the charisma of a small town pharmacist. He's a distant third in the popularity contest behind Romney and Bachmann and probably won't stay in past January.
The rest of the declared candidates are all very good men, except for Rick Santorum who is a 2x4 in a suit, with good messages, but barring a miracle, most will be out after South Carolina, all will be out after Florida.
So, what of the "what if's"?
Sarah Palin is the most interesting because of the double edged nature of her standing in the party. Among a large segment of the Right, an almost mythic quality has been created around her, one part Boudica, warrior queen, rhetorically slaying legions of liberals every time she appears on Fox News. But also, one part victim who, since 2008 has had every aspect of herself and her family dragged out into the mainstream media and torn to shreds by jackals who seek nothing more but pure character assassination.
My feel on Palin right now is that she won't run. For one, she relishes the outsider role, and what could be more outside than not even being a part of the process. Secondly, I think that she likes being looked upon as a sort of Tea Party Delphic oracle. Every media talking head is probably beating down her door to do their show, raise their ratings, just to wax politically about her party and the political environment as a whole. If anything, Sarah Palin may make the perfect RNC chair. The Right loves her, the Left hates her, and she has credibility with what is currently the most dynamic movement in the country: the Tea Party. That position may give her the best of both worlds.
On the other hand, Texas governor Rick Perry is almost certain to enter the race and to do it in a way to intentionally upstage all of the other candidates. On Saturday, when Romney, Bachmann, et al are the Ames, Iowa state fair, shaking hands, gorging on corndogs and waiting on the results of the straw poll, Rick Perry will be in South Carolina totally invalidating the results of that poll and everything that has happened in the GOP race so far.
It is presumed as of this moment that Perry will officially announce his candidacy this Saturday after weeks of will he or won't he. Well, he will! The question is: to what end? Many conservatives are vesting a lot of their hope in what they want Perry to be, the "real" conservative, the charismatic candidate, the new Reagan. Does this sound familiar? It should. Much of the same pre-announcement excitement surrounded actor, senator, lawyer and lobbyist Fred Thompson. With his drawl, his folksy wit and belief in constitutional conservatism, he was to be the Ronald Reagan to John McCain's Bob Dole establishmentarian Old Guard. Sadly, the "Fredheads'" enthusiasm was short-lived. Running a lackluster campaign from the start, Thompson was out of the race by late January, never having won a primary and only coming in second in one.
It should be proven very quickly if Perry is the savior of the party or just a footnote, but you can almost count on one thing: if Perry isn't what many think he is, the nomination will almost certainly go to Mitt Romney. If that is the case, God help the party and God help the United States of America.
Filed under :
Filed under:
Freddie Wants a Tax Cut
It was in the wake of the Gabrielle Giffords attack that a "new tone" was called for by the Left and their echo chamber of the main stream media. Giffords, a Democratic representative from Arizona, was at a supermarket meeting constituents, when Jared Loughner opened fire, killing six and critically wounding the congresswoman.
The Left was quick top jump on the tragedy for political fodder by labeling Loughner a "rightwing extremist." After all, he had a copy of Adolph Hitler's Mein Kampf in his personal library. Never mind that he also had The Communist Manifesto, Animal Farm, Plato's Republic and other books across the political spectrum. Not to mention, he was a long time abuser of alcohol, marijuana, LSD, the hallucinogenic salvia and was diagnosed as a schizophrenic. All of that was irrelevant because it was beneficial for the Left that the narrative be that Loughner was driven to act by his right wing political beliefs. In memoriam of the Oklahoma City bombings that were blamed on Rush Limbaugh, the Left point accusatory fingers at Fox News, Sarah Palin and, again Rush Limbaugh and talk radio.
Filed under :
Filed under:
The victory that no one wants to claim.
I was working on a metaphor for this piece: the Tea Party as the sober, designated driver, steering the Ford (no bail outs there!) to Fiscal Sanityville, all the while the drunken Establishment, both Democrat and Republican, keep grabbing at the wheel, trying to head the car into the ditch. But, alas, in reality the drunks are behind the wheel, driving 100mph towards the ravine, all the while ignoring the plaintiff cries of reduced spending, lower taxes, and less regulation coming from the back seat.
Filed under :
Filed under:
The Ineffective and Immoral Tax Policy of the Left
I was talking with a friend of mine today, a good guy, and a smart guy. But a guy who, nevertheless, has fallen for the liberal line that all of our fiscal problems could be solved if we just raised taxes on the rich. In short, he has taken to the "Fat Cat" theory of macroeconomics. If we can just get the rich; the millionaires, the billionaires, the oil company executive, etc... to pay their "fair share," we could balance the budget, pay down the debt, fund entitlements until Kingdom come, and maybe even help me grow back the hair I've lost! The exchange with my friend made me wonder, how many other smart, good people are being sucked into the Left's class demagoguery in these rough economic times? How many people look at the unemployment numbers, see their neighbors scraping by on food stamps and assume that the best answer is simple income redistribution? read more »
Filed under :
Filed under: