Rick Perry and the Conservative Lonely Hearts Club
Can I Trust You With My Heart...and my 401K?
Just when my heart was about to heal and I was ready to move on with my life, a sadder, wiser man, a suitor comes a' calling. I want to, I really, really want to believe you're the man for me, Rick Perry. But I've just been hurt so many times before. Sure, you say all the things that I like to hear:
To paraphrase Abraham Lincoln and Ronald Reagan, I realized that the United States of America really is the last great hope of mankind. What I saw was systems of government that elevated rulers at the expense of the people. Socialist systems cloaked maybe in good intentions but were delivering misery and stagnation. And I learned that not everyone values life like we do in America, or the rights that are endowed to every human being by a loving God.
Oh my! Lincoln, Reagan, God, capitalism and country all rolled up into one. There's no denying that you have a way with words. But, words are just words and may ex said a lot of the same words before he starting spouting dribble about "compassionate conservatism" and running up the national debt like the bill would never come due. Those kinds of wounds heal oh so slowly!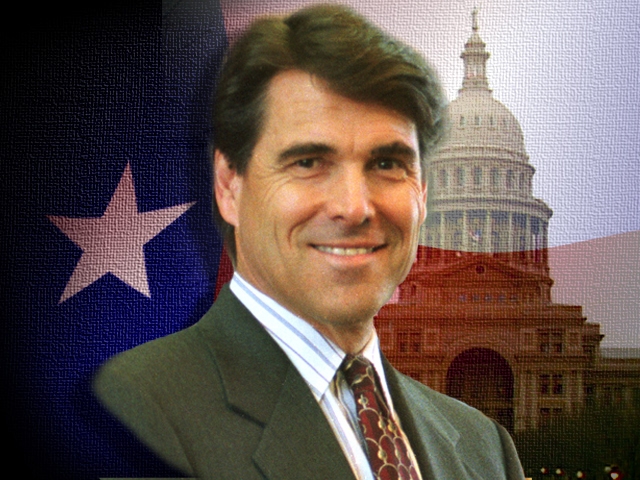 What's that?
As Americans, we don't see the role of government as guaranteeing outcomes, but allowing free men and women to flourish based on their own vision, their hard work and their personal responsibility. And as Americans, we realize there is no taxpayer money that wasn't first earned by the sweat and toil of one of our citizens.
I know! I know! Every word you say is true. But, how do I know you'll be faithful to me? At least, with that cad Romney, I know what I'm getting. I know that he doesn't intend to keep any of promises about fiscal or social conservatism. But I also know that he can rid me of the abusiveness of Barry, the man currently pimping my heart out to the highest bidder.
That's why we reject this President's unbridled fixation on taking more money out of the wallets and pocketbooks of American families and employers and giving it to a central government. "Spreading the wealth" punishes success while setting America on course to greater dependency on government. Washington's insatiable desire to spend our children's inheritance on failed "stimulus" plans and other misguided economic theories have given us record debt and left us with far too many unemployed. But of course, now we're told we are in recovery. Yeah.
Stop it! Stop it! Stop it! I know he's bad for me. I know that Barry is just using me. But why should I think that you're any different. Sure, you've got a better line. You know what to say to get to me, but…so did George. And besides, I've always got my gal pal Michele to lean on. She's there for me! No, she might not be able to replace Barry in the way that you can, but at least I can talk to her and not feel like she's just trying to cop a feel, to get to second base! I know, I need to move on, and sure, Mitt may just be my rebound beau, but at least he'll get Barry out of my life without getting my hopes too high. What's that?
And what do we say to our children? Y'all figure it out? Don't worry, Washington's created 17 debt and entitlement commissions in 30 years, but the fact of the matter is they just didn't have the courage to make the decisions to allow you to have the future that you actually deserve?
Children? Whoa, pardner. I'm not ready for kids yet….
We cannot afford four more years of this rudderless leadership. Last week, that leadership failed, and the tax and spend and borrow agenda of this President led to the first ever downgrade of the credit rating of the United States of America.
Yes, he has downgraded me: mind, body, and spirit! I'm not even a real person to him, just a warm, taxpaying body, here to meet his desires to spend…ON OTHERS!
He seeks to dictate new borders for the Middle East and the oldest democracy there, Israel, while he is an abject failure in his constitutional duty to protect our borders in the United States.
Granted, I like our new houseboy, Juan but….
Since June of 2009, Texas is responsible for more than 40 percent of all of the new jobs created in America.
Now think about that. We're home to less than 10 percent of the population in America, but forty percent of all the new jobs were created in that state.
And you lettered in varsity track! You looked so dreamy in your uniform. Mitt's got nothing on you!
I'm a Texan and proud of it!
OK. I won't hold that against you. Just because my last serious beau was an Aggie and you have that same adorable drawl. Besides, BOOMER SOONER! Oklahoma Sooners are predicted to end up in the BCS championship game and a little rivalry from the White House might be fun. But, just remember, the real seat of NCAA powers lies north of the Red River. Any comments to the contrary will get you a night on the couch!
It's time for America to believe again. It's time to believe that the promise of our future is far greater than even our best days behind us
The change we seek will never emanate out of Washington, D.C. It will come from the windswept prairies of Middle America, the farms and factories across this great land, from the hearts and minds of the goodhearted Americans who will accept not a future that is less than our past, patriots – patriots who will not be consigned to a fate of less freedom in exchange for more government
Oh, Rick!
We do not have to accept our current circumstances. We will change them. We are Americans. That's what we do. We roll up our sleeves. We go to work. We fix things.
Yes!
We stand up and proudly proclaim that Washington is not our caretaker and we reject the state that, in Margaret Thatcher's words, she said a state that takes too much from us in order to do too much for us. We will not stand for that any longer.
Margaret, too! First Lincoln and Reagan and now the Grand Dame of conservatism?!?! Stop it! Just stop it!
In America, the people are not subjects of government. The government is subject to the people. And it is up to us, to this present generation of Americans, to take a stand for freedom, to send a message to Washington that we're taking our future back from the grips of central planners who would control our healthcare, who would spend our treasure, who downgrade our future and micro-manage our lives.
Central planners? Are you talking Misean to me? Hayekian? You know that I can't say no to Ludwig and Friedrich. It's not fair! What you're doing to me isn't fair! I need to talk to Michele before I decide! And Mitt's hair, OH MY GOD MITT'S HAIR!!!!
We'll create jobs.
Yes?
We'll get America working again.
Yes?!?
We'll create jobs and we'll build wealth, we'll truly educate and innovate in science, and in technology, engineering and math. We'll create the jobs and the progress needed to get America working again.
YES!!!!
And I'll promise you this…
Sigh….
I'll work every day to make Washington, D.C. as inconsequential in your life as I can.
Oh, Rick! I can't take it anymore. I love you! I love YOU!!! Just promise me one thing, don't go all Fred Thompson on me. Don't make me all these promises, get my hopes up, and then just fade away. Can you promise me that? Can you?